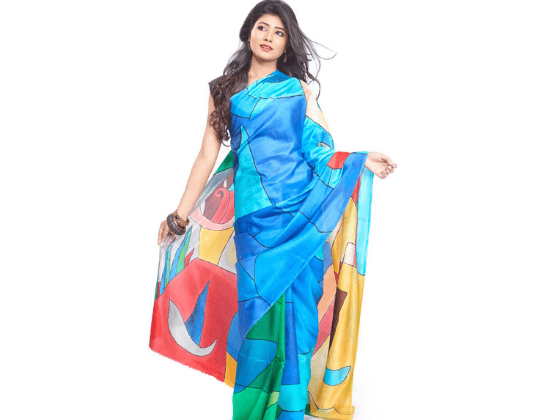 A saree, also known as a sari is considered to be the most pivotal formal clothing. Undoubtedly, this Indian attire can ace up a woman's ever so beautiful personality with grace and glamour. Available in a plethora of varieties each type of saree has its own charm. This Indian Traditional clothing needs to be draped precisely to achieve that look of your dreams. We're here with a few tips on how to select your right ethnic match based on your body type while you are shopping offline or indulging in a shopping spree for a saree online.  
Women who have short and slim bodies must choose sarees in light fabrics like cotton, chiffon, etc. These help you look elegant and make your body look flattering. On the other hand, if you wish to wear a saree in heavy fabrics like banarasi silk, etc, you must choose the one with a slightly flowy texture and less work.

If you have a tall body and lean frame, flowy fabrics will help you make your figure look flattering. Draping around fabrics like silk, linen, light cotton, georgette, tussar, and chiffon with noticeable prints and heavy patterns give you an alluring appearance helping you stand out from the rest.

Most Indian women have a pear-shaped body. Mostly sarees with less work in darker shades are seen to flatter such body type. Heavy sarees like Banarasi, Kanjivaram etc are an all-body fit, hence also suit pear-shaped women.  You can also opt for fabrics such as soft cotton, linen, and georgette for their flowy textures can highlight your curves. 
 An ethnic outfit, especially a saree, beautifully enhances an teck figure. You can choose sarees in some dark and bold colours plain or embellished with some beautiful Indian work to make your body look aesthetically pleasing. The traditional maud with minimal brocade and beadwork can also enhance your look and add elegance. Opt for full or half or elbow-length sleeves to look to achieve a more formal look.
Most Indian women of their mid-age usually have an apple-shaped body. Stiff sarees like Banarsi, Kanjivaram, etc help in making the upper and lower half of the body even helping you achieve an eye-pleasing silhouette. Heavily embellished sarees look exquisite on such body types. If worn with a falling pallu or a semi-falling pallu almost all kinds of saree can glam up an apple-shaped body and make the adorner steal the spotlight. 
Chiffon and handloom saree for women with oversized bodies looks just perfect. Go for bolder shades to accentuate your curves and achieve a pleasing look. An oversized body can be glammed-up with sarees that have bold prints and are adorned with heavy work.

Sarees are historically famous for giving you a glamorous and classy look. With the help of the above tips make sure to select the one that suits your body best. Also, ensure to consider your body type not just for a saree but other ethnic pieces too such as a salwar kameez,  a lehenga choli, etc.