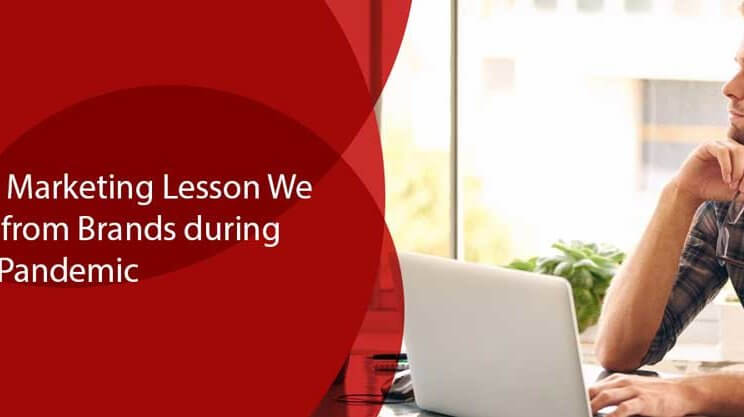 The past year managed to wreak havoc with brands' businesses and marketing strategies. The situation caused brands to rethink their marketing strategies to stay relevant and connected to their customers.
The pandemic has been particularly devastating and challenging for the brands that relied on in-person contact for delivering their services. For instance, brick-and-mortar retailers, travel-related businesses, and restaurants were the most affected by the atrocities of the coronavirus outbreak.
While many businesses saw closures, the smart businesses instead of sitting around and waiting for the pandemic-induced restrictions to lift, started doing everything and anything to become relevant.
As the pandemic caused major national lockdowns the businesses were forced to follow health guidelines and adapt to complete virtual standards of operating their businesses.
Even in this time while many businesses decided to pause their business operation, the smart business owners started investing in better TV internet bundles for effective work from home.
And now as the situation has started easing in the country due to the growing vaccination rates, the businesses have started getting hold of the situation.
However, now as we are gearing towards a bit more normalized state for working it is important to let go of the lessons from the past.
Following are the key lessons that marketers need to emulate:
Deliver the Right Customer Service at the Right Time
For marketers, it is always important to stay ahead of the curve and anticipate customers' needs and demands. However, before the coronavirus outbreak, not many marketers gave a thought to a crisis of such kind and what action plan they need.
The abruptness of the virus spreading, severe lockdowns, and restriction swooped marketers off their feet.
However, the clever marketers were the ones who during the pandemic tried anticipating and stressing the needs of their customers and offers them what they demanded.
Take JPMorgan Chase's Sapphire Reserve card and Instacart's collaboration, for example. These two formed an alliance quickly during the pandemic, which made Chase's Sapphire Reserve card offer bonus points in Instacart expenditures and even special deals on Insta Express Service.
This quick marketing and favors for a customer came from the thought that people are now given to order groceries online instead of shopping for them or even dining as usual.
This partnership has now managed to grow even more with Instacart announcing to launch a credit card partnership with Chase.
Brands that want to act on such opportunities need to have eyes on customer's mindset, with brands uncertain of the need of the customers they cannot act upon at any time.
Understand that your customers require constant monitoring and through social media channels and market research, you can do that.
Stay Top of Mind
Many businesses saw an obvious dip in connectivity during the pandemic. However, if they wanted to stay relevant to the customer they should have chosen "the other side". This means that brands that instead of sticking to their rules of service and delivery tried to modify their business approach during the pandemic managed to gain more popularity in the tough times.
Even for doing this, the brand needs to stay on top of an. And to stay on the top of mind it is not necessary to send out gifts and hampers to your customers. Instead, the b2b focused businesses can also host online thought leadership sessions where they can address their clients.
Other than this brands can even send a simple email with an inspiring quote or an image or an inspiring video to stay connected and relevant with the customers.
The key is to always stay on top of mind your customers even in the most absurd times.
Leverage Technology
During the pandemic when the situation started becoming difficult for the service delivery brands, smarter brands started leveraging technology to keep their business alive.
From having online fundraising, making celebrity chef cooking lessons, and even celebrity-hosted fitness classes the element of special access to VIP customers remain constant.
The brands started leveraging technology to stay connected with their customers and managed to not go out of sight.
 Stay Creative
In the last 14 or so months, the marketer showed utmost creativity in their work. Such marketers are now able to pull back their brand into normal times with a high rate of success.