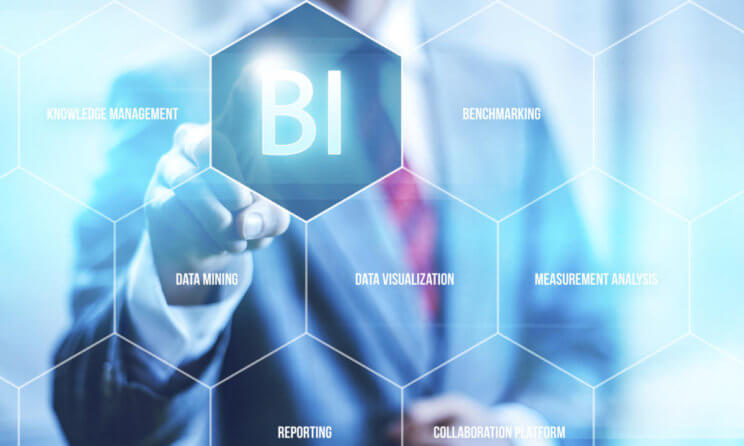 Augmented analytics is to use artificial intelligence and machine learning for enhanced analytics throughout the data lifecycle. Right from creating data to analysis to the delivery of insights. Augmented analytics uses data science and AI to make data intelligence accessible in a conversational manner. Business intelligence tools are increasingly using augmented analytics to speed up data analysis.
Speedier data analysis with augmented analytics
Your business needs the ability to make data driven decisions fast. The dynamics of how you want to visualize the data or what KPIs you want to analyze may change instantly. Hence, you cannot depend on predefined commands. Your business intelligence tool should be able to carry out the needed analysis on the fly, as the queries are being typed into or spoken into the system.
One of the biggest benefits of augmented analytics is that it uses natural language processing and conversational analytics. This immediately makes deeper insights and complex analysis accessible to less technical experts. Business managers and other stakeholders may not all be data scientists, but they need business intelligence tools for day-to-day and long-term decision-making. If they are constantly held hostage to technical lingo, they will be stuck where they are and the business intelligence software, no matter how advanced it is, will be of no use. It is paramount that you work with a business intelligence agency that knows the importance of making data analytics as accessible as possible to your non-technical staff.
Some of the benefits of augmented analytics in business intelligence applications include
Improved data literacy.

Faster data gathering & data preparation.

Faster insights.

Reduced analytical bias.

Accessible, democratic data analytics.
Can there be challenges for augmented analytics in business intelligence software tools?
One of the biggest challenges might be the legacy tools that an organization is already using. In the legacy software applications, data exists in silos even when it is generated at multiple touch points. This is where an experienced business intelligence solutions company or a BI consulting can help you – allow your legacy systems to seamlessly interact with your state-of-the-art business intelligence tools by sharing data.
Why do you hire a business intelligence solutions provider in the first place?
A typical business intelligence services gives you actionable insights. An average business these days works in a highly competitive environment. There was a time when starting a business used to be a humongous undertaking, but no longer is the case as far as entry barriers are concerned. Got an Internet connection? Got a website? Congratulations! You can start a business.
The products are more or less the same because the same technologies are available across the board. The services too are more or less the same because the level of expertise is uniform to a great extent. So, how do you differentiate your business? By using data insights.
Businesses that use actionable data insights generated by their business intelligence tools can provide highly focused products and services. They can optimize their marketing. They can optimize product delivery. They can build communities of loyal customers and clients around their businesses (for example, Apple). They can speed of response in case their customers and clients are in a fix. They can come up with new products and services based on the insights obtained from data analytics. They can build better human resources by analyzing individual performance. The possibilities are practically limitless.
Using the above points, let's now quickly explore how augmented analytics help you speed up the performance of your business intelligence tools.
Improved data literacy
Every organization that desires to use high-quality BI tools needs to nurture a data culture among its employees at every level. Unless every employee understands the importance of data, it becomes difficult to gather massive amounts of data at all possible touch points.
Through data literacy, you basically democratize artificial intelligence and machine learning and people in your organization understand the great benefits of using data for making day-to-day decisions and then collectively moving towards the bigger goals of the organization. This necessitates that data sciences be brought down from their ivory towers and made accessible to all and sundry.
Augmented analytics can be a big step towards this direction.
Faster data gathering & data preparation
As mentioned above, for big data decisions, you need data. Data can be collected and prepared in the right format with a combination of augmented analytics tools embedded within your BI systems as well as active participation from your employees.
Nonetheless, a big part of BI tools is to reduce human interference as much as possible and at the same time making data insights as humane as possible. Augmented analytics, through AI and machine learning, automates data gathering and data preparation at as many touch points as possible. Even an email exchange between two employees, between your employees and suppliers or between your employees and customers and clients, can be an invaluable data source, mostly handled by augmented analytics.
Faster insights
In augmented analytics, machine learning algorithms automatically detect correlations, clusters, segments, outliers, and relationships in your data. Even the most complex statistics and visualization graphs and charts are generated within seconds. This enables decision-makers to access Insights immediately, when they matter the most.
Reduced analytical bias
Human analysts, even unconsciously, are continuously making assumptions when they are looking for answers, according to experiential data that they already have in their minds. This can have a positive impact as well as negative impact. But mostly, negative impact.
Augmented analytics, since they are powered by AI and machine learning, do not use analytical bias or at least, can dispassionately decide when push comes to shove. It can help you minimize potential bias by carrying out automated analysis across large datasets that have great statistical importance. This way, you don't miss important insights due to human bias.
Accessible, democratic data analytics
An augmented analytics solution provided by a business intelligence solutions company can help you democratize high-level business insights. These insights, in the absence of an easy-to-use business intelligence tool, are mostly accessible to train the data sciences. Data scientists provide intelligence, they don't take business decisions. Business decisions are taken either on the spot by the employees who are in the hub of the activity, or business managers when drawing long-term business goals.
For example, an employee managing a warehouse, before placing a large order, needs to know which suppliers among the 15 suppliers he has in his database, is the most efficient during the month of October. He shouldn't have to depend on a data analyst for such an insight. He should simply be able to type a conversational quarry into the dashboard to obtain the information he needs.
This is how augmented analytics speeds up your data analysis. It gleans all possible data. It recognizes patterns and connections on its own. It allows decision-makers to use conversational queries to provide simple answers to the most baffling business questions.