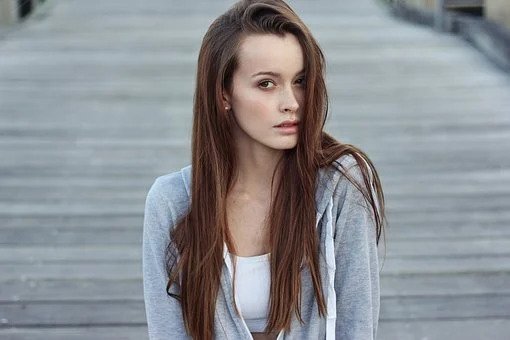 Macadamia oil is obtained from Macadamia nuts and has a slight nutty flavour. It is found all over the world but mainly in the region of Hawaii. First, the outer layer of skin of the macadamia nuts gets removed. Then, the nuts are cold-pressed to produce macadamia oil. This oil has some of the most essential nutrients and fatty acids. The hair shaft and the skin absorb the macadamia oil easily. It is a non-greasy, almost colourless, pale yellow oil that is very lightweight.
Macadamia oil has many nutrients such as copper, sodium, phosphorus, magnesium, iron, and even calcium according to the nutrient database of USDA. Also, there are lots of fatty acids in a higher concentration such as oleic acids, Palmitoleic acids, linoleic acids, stearic acids, and palmitic acids. Now you must be thinking, what will all these nutrients do for us? All these things combine to make it one of the best oils for hair and skin due to its high concentration of nutrients and fatty acids. Hair masks made using this oil are the best for the good health of your hair. Discussed below are a few reasons why you should choose macadamia hair mask over any other mask.
Protection from Ultraviolet Rays, Heat & Chemical Damage
Your hair can get ravaged and damaged seriously due to the harmful ultraviolet rays of sun, extreme heat conditions, and chemical exposure. But with the help of Macadamia oil mask, you can easily prevent hair damage and thus protect your hair.
Eradicate Hair Frizz
There are times when you may have frizzy and rough hair, which can be specially noted in people with curly hair. This frizz can become worse if you don't use the right hair products and also due to humid weather conditions. A mask that is prepared using macadamia nut oil nourishes the hair shaft by coating it. It eliminates the hair frizz with the vitamin compounds and essential fatty acids.
Prevent Hair Damage & Breakage
The damage of hair is prevented and moisture of hair is maintained by multiple cuticle layers, which overlap each other. These overlapping cuticle layers help in the protection of every hair strand. The layers of cuticles get separated when they are exposed to and stressed by biological factors and environmental factors. Hair breakage and brittleness are caused when the layers of cuticles get separated. The elasticity and strength of the hair are improved due to the penetration of macadamia oil mask into the hair follicles and scalp, which also helps in the prevention of hair breakage.
Natural Hair Moisturizer
Sebum oil is a natural oil that is present in scalp. Macadamia oil mask acts as a sebum to moisturize the hair and scalp. The reason why macadamia oil mimics sebum is because of the palmitoleic acid present in macadamia nut oil. If you have damaged hair or suffer from lack of sebum production, macadamia oil mask is a great option to consider.
Best Macadamia Hair Oil Tip:
Here are a few Macadamia hair oil mask tips:
Apply Macadamia oil immediately after you take the shower. This way, it will be absorbed quickly by the hair and water will be pushed out from the hair cuticles. This makes your hair dry faster than the normal time taken to dry hair after taking bath. So, you will be able to reduce the time when hair is exposed to the heat to dry the hair and hair will be dried in half time than normal time.
If you are having split ends on your hair, then you can apply some macadamia hair oil at the hair ends using your fingers.
You can also heat the macadamia oil to massage your scalp to be relieved from stress.
So, apply a macadamia hair oil mask and get rid of all your hair problems.
Macadamia nut hair oil mask is helping people all over the world in the protection of hair, hair damage prevention, and hair nourishment due to the various unique composition of vitamins and nutrients in these nuts. This mask improves the overall appearance of the hair and it has a great moisturizing effect on hair, hair shaft, hair follicles and hair cuticles.