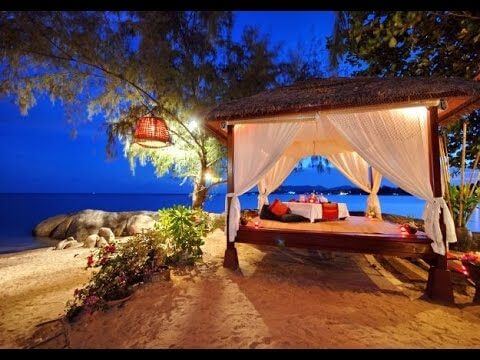 The big day is over, and all the wedding planning has come to a close. Your wedding dress, wedding hashtag, and wedding program has all been exhausted and now it's time to enjoy your  Honeymoon! The word is enough to make newly married couples giddy with excitement and joy. The honeymoon has always been a perfect holiday for married couples to understand each other and form an unbreakable bond. But, it takes months of planning to find the ideal honeymoon spot to relax after a hectic wedding schedule. 
Honeymoon destinations are different from regular holiday destinations. The place should create enough romantic memories to cherish for a lifetime. This article explores 10 honeymoon destinations you can visit in 2022.
In the Bahamas, you can enjoy 1,00,000 square miles of the world's most transparent water. For decades, the Bahamas has been the favorite honeymoon destination for celebrities. The island is famous for its white sand, making evening dinners on the beach mesmerising. The island offers powerboat services to visit many beautiful islands and enjoy solitude on virgin beaches. 
The Maldives is surrounded by the pleasant blue water of the Indian Ocean. The Maldives consists of 1,192 islands, and each one is ideal for the best honeymoon picture. Luxurious resorts in the Maldives promise fun and entertainment on private islands where you can land directly. The islands are not just picture-perfect but also provide privacy.
Darjeeling is a beautiful hill station in North Bengal (India), located at the Himalayan foothills. Sit hand in hand and enjoy the Heritage Steam Engine ride while passing through India's highest railway station (GHUM), situated at an altitude of 2,258 metres above sea level. Darjeeling is famous for its world-class tea estates. Experience the joy of having a refreshing cup of chai with a view of the mighty Kanchenjunga mountain.
Thailand is famous for its nightlife. There are several party places in Bangkok where you can party the entire night with your better half while munching on tasty local food. Thailand offers newlyweds warm beaches, sunsets, divine temples, floating markets, and many more tourist attractions.
Bermuda is a small British Territory situated in the North Atlantic. Bermuda is famous for its Pink Sand, Limestone Cliffs, and clear blue water. There are numerous high-end hotels with beautiful suites to spend many luxurious honeymoon nights. 
Bali is one of Indonesia's islands and stands as a unique Hindu island in a Muslim majority country. To start your marriage on a spiritual note, visit the many Hindu and Buddhist temples on the island. You can also enjoy Bali's several luxurious resorts and make your honeymoon a memorable one.
If you are a fan of the reality show 'Keeping up with the Kardashians,' you must already know how beautiful Bora Bora is. What's good for the Kardashian family is also good for you and your partner's first trip together. In Bora Bora, create special memories by diving directly into the ocean from your room and enjoying a romantic dinner while watching the sunset.
Mauritius in the Indian Ocean is famous for its white sand and wildlife. Enjoy nature together on hiking trails, find love in the rainforests, and enjoy the playful antics of the island's Flying Fox. Mauritius is a picture-perfect destination for couples and is rightly known as a lovers' paradise.
Are you and your partner history buffs? Then Prague, the capital city of the Czech Republic, is right for you both. Take a stroll at the Old Time Square and take in the city's Gothic architecture and postcard vintage landscapes. Memories of Prague will make you fall in love with your partner even years after your unforgettable honeymoon to this European city. 
How about finding some love underwater? Visit Barbados to enjoy snorkelling and surfing. If you desire an active honeymoon destination, Make Barbados your first honeymoon choice if you never want your wedding celebrations to stop. Dance off with your partner on white sandy beaches where an orange horizon meets crystal clear water. 
Conclusion
The honeymoon memories will stay with you forever, and you can always relieve them through pictures and videos to find the spark in your marriage again. But, planning a perfect holiday is not cheap. The flight fare, hotel bookings, transport, and food can make any perfect honeymoon a bit expensive. 
But, a simple personal loan that can be processed in time for your honeymoon can give the perfect ending to your wedding celebrations. Personal loans interest rates can be as low as 10%. You can also plan monthly EMIs ahead of your honeymoon using a personal loan EMI calculator. Find a personal loan suitable for you so that you don't let money issues come between you and your honeymoon.