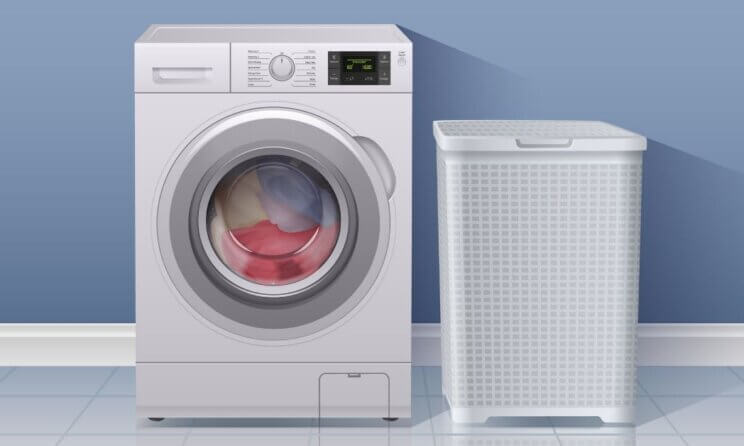 Purchasing the right washing machine variant for your home gains a lot of importance. A proficient washer will help you reduce the hassles of a laundry routine and gets it done within minutes. The majority of washing machine buyers get confused to choose between the top load and front load washing machine models. Although both variants work great in performing upscaled laundry routines, you need to choose the one that works best for your requirements. However, the front load washers are quite popular in the Indian market as they are great in performance. 
Here is a detailed guide consisting of the 7 reasons why front load washing machines are worth buying in 2022. Read to know more!
The capacity of the front load washing machine models is designed to accommodate a huge amount of clothes at a time when compared to the top load washing machines. Your laundry routine will be done at once with the front load washers. The other major benefit of this feature is that you will be required to wash the clothes less often. Since you can wash many clothes at a time, you do not have to wash them frequently. You can wash many types of fabrics at the same time without having them damaged. The washing machine has multiple modes for it. 
The front-load washing machines are often considered the best washers as they make use of less detergent. The majority of these front load washers come with a bubble foam wash technology which produces more bubbles with less detergent or washing liquid. So, they remove even the toughest of stains easily. 
Irrespective of the brands you are selecting to buy the front load washing machine use only less amount of detergent. This can also help in a better laundry routine, without saturating the water inside the washing machine.
The front-load washing machine models are designed to save electricity. You can highly conserve electricity and reduce your power bill by making use of energy efficiency technology. The top-loading counterparts also save electricity, but the front-load washing machines save even better as they come with a 5-star rating. The higher energy efficiency feature has made it one of the most sold washing machine models. The energy-saving technology of these washing machines also makes them eco-friendly.
The front-load washing machine models are available in compact sizes in the market. Irrespective of the numerous features they are packed with, the front load washing machine models are quite compact in size. You can easily shift them from one corner to the other. Also, you can keep them in an already clustered room without having the room packed or look concentrated. The compact sizes do not hamper the washing quantity or quality of the front load washing machines.
If you are looking to buy a front Load Washing machine on EMI then you can go to Bajaj Mall and get a list of different front load washing machines. Currently, at the Bajaj Mall, some of the best front load washing machines are being displayed for sale. With exciting discounts and offers, you can buy a washing machine that complements your household.
More number of program cycles
There are more program cycles available in the front load washing machines than in the top load washing machines. This enables you to wash all types of clothes of the best quality without any damage. You can use different modes and program cycles for different types of fabrics. 
More program cycles can help in the best possible washing of every fabric. You will not have to worry about your fabric not being able to get properly cleaned inside your washing machine, as all the program cycles are designed to perfectly wash the specific fabrics.
You will get a faster spin speed if you buy a front load washing machine that has more than 1000 RPM. Although the top load washing machines are good enough and have an average spin speed, the spin speed of the front load washing machine models is quite better. 
You can easily wash your clothes and dry them within no time. The instant drying routine will help you effectively optimize your laundry process and save a lot of time for other chores. This is the best option if you are a working person and have got less time to devote to washing and cleaning.
Elegant specifications and designs
You get a better range of specifications and features when you opt for the front load washing machine models. Many top brands have integrated Wi-Fi, dedicated mobile applications, and other smart features into their front load washers. Although the top load washing machines give a good washing experience, the customers prefer the front load ones due to their better and numerous features. Also, the designs are elegant and blend in any corner they are placed in.
You can get the best-selling washing machine on EMI from the Bajaj Mall at no cost EMI and zero down payment. You can get the Bajaj EMI network card, for more exclusive benefits. Visit the Bajaj Mall and make your purchase today!
Also check about – How to wash car seat covers