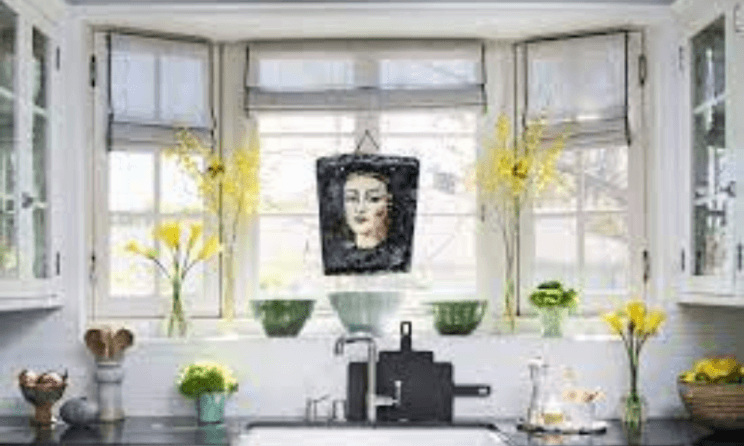 Your online source to read trending news on Home Decor, Lifestyle & Entertainment, and more. Here are we explain the top 10 window coverings ideas.
Windows are the very first thing noticeable in a house with whatever style. They create the feeling that amplifies your lifestyle. However, window coverings are simply the swaddles of material, fixed, wrapped, or pleated over an opening in the exterior.
The best way to enhance the look and the feel of your house is to replace the old window treatment with the new trendy and overwhelming interior window coverings. Upgrading your windows is one of the considerable investments that is gonna last for years. Before selecting the best window treatments for your house interior, review the best window coverings ideas to help yourself design the dream room while ensuring the best combination of function and style. From traditional to modern window fashions, there are endless ideas that can inspire you.
1. Curtains with contrasting color — Windows with contrasting color-blocks offer a unique and warm look. If installed correctly, they can pair well with various design styles, whether traditional or modern. Opt for contrasting covers with a warm and robust color; this will give your room a stylish look. To provide the space with a clean and polished look, pair the curtains with minimal fittings.
2. Indoor canopy curtains — Instead of using the rod-hanging yesteryears approach, hang the curtains from a crown to add the luxurious feel to your space. Fix hooks at the upper exterior corners of your windows and loop the curtains over them; this will convert your area into something more luxurious. To achieve the look, you will need to use long swathes of the curtain fabric.
3. Custom coverings — It might be hard to find the perfect pieces of fabric for your space. In this situation, look for the custom window coverings that exclusively suit your space. Give your room the finishing touch by having a perfect style, pattern, and color. Custom window coverings will fit with whatever size, length, or width your room may have ideally. If you are looking to have window treatments specifically for the sliding glass doors, the custom coverings are the best options to install and stay secured for an extended period.
4. Swing arm window treatments — Swing arm are the modern type of window treatment that certainly are unique. This fun idea will undoubtedly be the critical point of conversation about your room. Swing arm curtains are one of the best options to opt for if you have small windows where you cannot hook floor-to-ceiling curtains. However, they are available in arrays of on-trend designs and finishes that will keep your room look more contemporary and unique.
5. Personalized printed drapes — Personalized drapes are also one of the unique interior window coverings. If you have a particular pattern of design in mind, get it imprinted into the fabric. Today's advanced technology can get your most loved design printed onto the drapes easily.
Also read: Car Window Tint: Saving You From Harmful UV Rays
6. Black window frames — If you are looking to give your room out of the ordinary dramatic look than black window frames are one of the best ideas. Hook light-colored curtains; this will balance the dark and striking shade of the black frame on your window. Also, you can set up patterned, printed, and bold colored window coverings.
7. Austrian Shades — Austrian shades are another option to opt to add elegance and drama into any of your rooms. The romantic texture and delicate layers make them a decent option for a grand window covering treatment. Austrian shades are one of the other royal shades to add touch and visual play. Use these shades, and you will quickly start feeling more luxurious.
8. Sheer shades — Simple sheer shades are the best option for a window treatment if you want the natural light flow in through the windows. This option is particularly ideal for the working spaces where you need natural lighting to work. Pick out a color that blends well with your room. However, if you want to give your room a classic feel, nothing will be more unique than the sheer ivory drapes hooked from floor to ceiling.
9. Silk Shades — Give your room the feel of understated luxury by choosing silk shade. With inclusive of various hues, maxxmar window coverings with such shades have a luminous quality that lets plenty of natural light flow in through the window. Pick a gorgeous pattern in the shade to get the feel and style of custom window treatments. If you are interested in having window coverings with a minimal profile and print, opt for classic and clean-lined arrangements.
10. Soft Blue — Soft blue is a smooth and subtle addition against the background with white shade. On a more glamorous note, choose light blue curtains and clip them with a gold rod with tie backs or strings and fittings of the same color.
There are so many trendy, overwhelming options to try. Make sure you pick something you genuinely admire. Undoubtedly, it will never be outmoded. The upcoming years are going to astound you with trendy window fashions. A well-designed window can amazingly change the appearance of your space. So give your flimsy Venetian windows a new look with Maxxmar window coverings.
For more informative posts about everything from home decor, lifestyle, entertainment, technology, business, news, education, and be sure to check out more blog posts at Foxnewsflip.com.