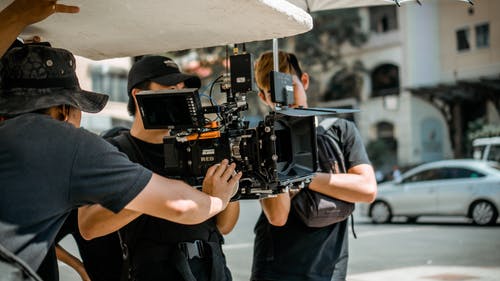 Videos are the most consumed form of content as of now. Videos constitute one-third of all online activity, with an average user spending over 100 minutes daily consuming video content. Come 2022; the video would account for a staggering 82% of the total internet traffic.
That screams marketing opportunity for businesses, big or small. It's time you too incorporate video in your overall marketing effort to build marketing expertise and drive brand awareness and sales. Well, if finding a video production house in Delhi seems challenging, we are here to help.
Here's your rundown on how to choose the right production house suiting your bottom line.
1. Portfolio:
A portfolio testifies a production house's skills, vision, technical knowledge and quality focus. Any production house worth its salt would make a portfolio available to you to showcase its work and earn your business. If the company is reluctant to provide it, take it as a red flag.
Go through the portfolio carefully to determine if it is meaningful, engaging and professional. Don't ignore the video specifics, as they tell you about the production house's eye for detail. If the specifics aren't correct, the video would not pan out well and reflect poorly on your brand.
Next, compare the portfolio to your expectations and vision. Determine whether the company can deliver something similar to what you are looking for. Suppose the company specializes in 30-second promotional clips, but you require a longer video for internal communications.
2. Reviews and Testimonials:
Production houses would wax lyrical about their skills, approach and other aspects of video production services. But the magic is when others speak enthusiastically about their experience with the production house. That calls for reading reviews and client testimonials.
The reviews offer a fair idea of how well the production house treats its clients. However, don't base your hiring decisions wholly on reviews, as many of them are generated by affiliates. They get paid for positive reviews. So, stay away from reviews carrying a link to the company's site.
3. Services Offered:
A video comes in all shapes and sizes. Think promotional video, CSR Video, industrial video, short films, internal communication video, training video, advertisements, explainer videos, web videos, documentaries, music videos, marketing videos, training videos and more.
A production house with a vast service portfolio can meet your specific requirements head-on. Just look for it on the production house's website and match it with your needs. Engaging with a production house that doesn't offer what you are looking for is the wastage of time.
4. Full Process:
Video production is a complicated and elaborate process. A video production house in Delhi offering an entire process is the best bet. Or else you'll have to deal with the stress, hassles, delays, and cost overruns. The whole process includes Pre-Production, Production and Post-Production.
The pre-production involves the development of the concept, design and more. Marked by lights, camera and action, production is all about capturing the idea on the reel. Likewise, the post-production has much to do with refining the video with editing, sound and effects.
5. Project Management:
How the production house manages a project decides the quality of the video and your overall experience. A well-managed project requires the right blend of talent, technology, equipment and facility. If anything is missing, the production house cannot keep up with your expectations.
Enquire whether the production house has onboard professionals for scriptwriting, direction, hair and makeup, editing, location scouting, test screening and more. How robust is the house's IT infrastructure? Does it provide actors, or can it refer you to a reliable casting company?
Determine beforehand how many people would be involved in the entire process and cater to your needs. It's in your best interest to know the nitty-gritty of project management before you sign up. Failing this, you'll be dealing with some unpleasant surprises later on.
6. Timeline:
All production houses aren't created equal. Some can pull off the project in the schedule without cutting corners on quality. For the rest, it's just wishful thinking. Now, your task is cut out – ask for a detailed production schedule and ensure the production house sticks to it.
Don't ask your video production services provider to rush through the process. Instead, give it ample wiggle room to carry out the process smoothly and fructify your vision. The last thing you need is a haphazardly produced, amateur video that doesn't help your business goals.
7. Cost:
Cost is a major deciding factor when it comes to choosing a production house. Conceded, you get what you pay for. But the price isn't an accurate indicator of quality. Some production houses offer quality at par with their pricey competitors. Need we say that you have to find one such home?
You have to research well to get the best end of the deal. Ask for detailed quotes from the shortlisted production houses and spend some time comparing them. Ensure the production house honours the quotes right through. There shouldn't be any hidden charges whatsoever.